Speaking
I love public speaking, so if you'd like me to speak at your meetup or conference please send me an email!
Some of the things I like to talk about include:
The independent web and creativity
Building accessible and inclusive web applications
How to write great documentation, clear product copy, and teach technical concepts
Fun web things I've built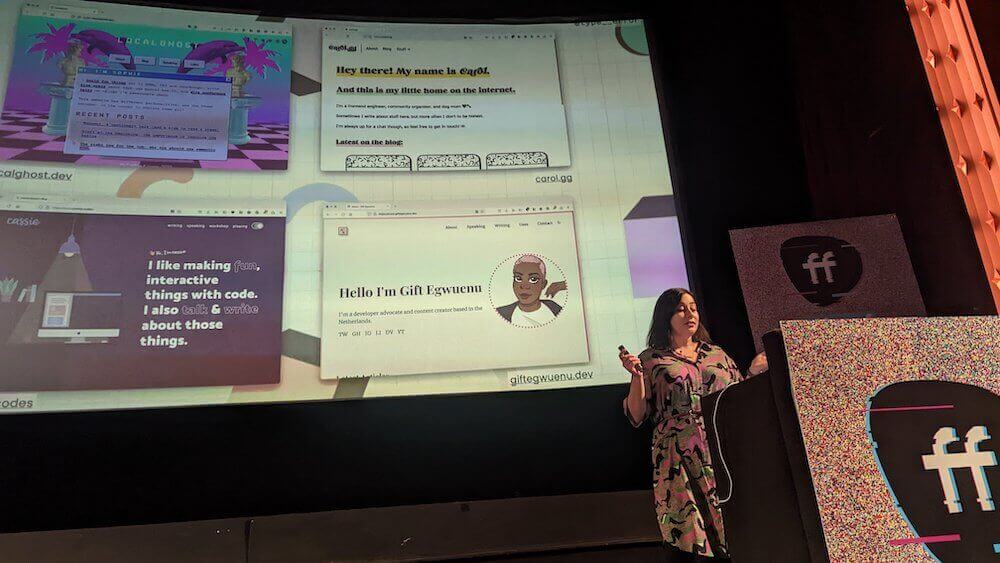 Upcoming events
Talk history
Conferences
Some of the events I've spoken at in the past include:
Front Conference Zurich 2023
CSS Day Amsterdam 2023
Beyond Tellerrand Düsseldorf 2023
Middlesbrough Frontend 2023
ffconf 2022
State of the Browser 2022
FullStack eXchange 2022
UX London 2022
JSConf EU 2019 (Community Stage)
GDG Devfest 2021
Next.js Conf 2020
JSCamp 2021
JSConf IN 2021
CityJS London 2022
BeJS Conf 2022
WeyWeyWeb 2022
I've spoken about:
I'm always happy to present one of these talks, or we can chat about themes you'd be interested in. Get in touch!
Podcasts & Panels
Monzo x Ada's List webinar for International Women's Day 2021
Texthelp Talks, March 2021 – 6 myths designers and marketers believe about web accessibility (recording)